Presentation Box for the National Gift to the Miss Universe 2017
Having done previous work for Jack Friedman Jewellers, Johan Nel of Knysna Woodworkers was again commissioned, this time to design and craft an extraordinary and special presentation box to showcase the National Gift to the Miss Universe 2017 that will be auctioned for charity to a discerning International audience.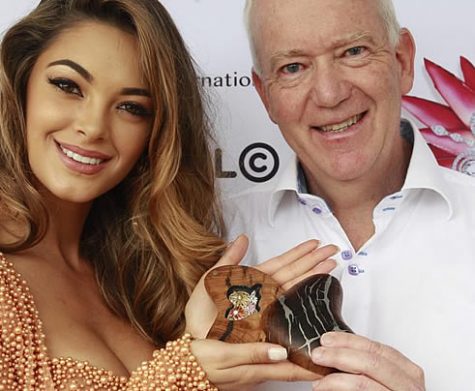 Miss South Africa Demi-Leigh Nel-Peters with Howard Fevrier of Jack Friedman Jewellers (grandson of Jack Friedman), together proudly holding up the National Gift — a superb piece of jewellery inspired by the Namaqualand Daisies, beautifully displayed here in its presentation box.
Johan explains the Vision behind the Box
My mandate was that the box be in the shape of Africa and, if possible somehow, to represent the devastating fires of Knysna on 7th June 2017.  Howard Fevrier gave me certain specifications as to what he wanted, but I was also given creative licence to develop it into something totally unique.
In choosing the wood, there was this one particular piece of Oak that caught my attention, as in how the grain and the cracks in the wood fell into place. The cracks to me represented the fire, and the silver I used in the cracks represents Knysna's community spirit as it rises from the ashes to rebuild to something even better. It was this piece of a once great tree that was burnt to near coal that I rehabilitated and hand-crafted into the presentation box used to house the National Gift.
"A very sentimental piece of art to me," says Miss South Africa Demi-Leigh. She is a local Garden Route girl from Knysna's neighbouring town of Sedgefield, and we are all very proud of her.
What also makes this box so special is that it was from one of the Oak trees planted by the Knysna town's school children during Queen Victoria's Jubilee on the 24th of May 1887.
National Gift  – the Daisies of Africa
The jewellery piece was designed by the Jack Friedman team in collaboration with Demi-Leigh, contains South African Gold and Diamonds and was inspired by the Namaqualand Daisies, one of our country's natural wonders. This year's gift is to represent the best of South African natural resources, including its incredibly talented and creative people.
'Tata' is engraved on the solid 18 carat gold surface, which reads "The greatest glory in living lies not in never falling, but in rising every time we fall." A quote by the late Nelson Mandela. This says it all.
The Miss Universe 2017 pageant will be held on November 26, 2017.
Photographs courtesy of Jack Friedman Jewellers.
See the following link for more information