The Goodricke Dinghy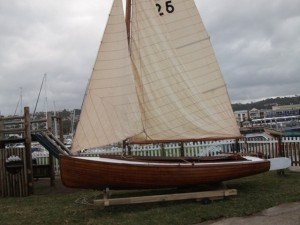 Knysna has had a very close relationship with the Goodricke Dinghy. In 1924, Mr George Goodricke of Royal Natal Yacht Club imported some dinghies from the UK. They were beautifully built: steamed ribs, mahogany – planked and fastened with copper rivets, with heavy phosphorus bronze centre plates.
George then presented the "Interclub Yachting Trophy"for 16ft Dinghies but with a fairly complicated deed of gift. Only recognised Yacht Clubs could compete and nobody that had anything to do with working on boats could sail!
This became the Goodricke Class and was not a "One Design" class but rather a "Restricted" Class with only the length, beam weight and sail area controlled. A large "R" had to be displayed on the sails with the initial of the Club represented. Knysna Yacht Club won the Trophy in 1928 with Mr W.A Duthie sailing "Valkyrie". (The miniature trophy is on display at the Knysna Yacht Club).
Other well known Goodricke's in Knysna were "Sea Sprite"  R K 28, built and owned by Halvar Mathiesen, "Joan Edel" R K 33, owned by Cyril Noble and "Tenacity" R K 25 built by Thesens for Bernard Parkes and it is still sailing! Knysna won again in 1934 with Cyril Noble sailing "Joan Edel". The Goodricke Trophy became the most sought after Interclub trophy for dinghies whilst the Lipton Trophy was for keelboats.
Halvar had bought "Joan Edel" from Cyril Noble. After the 1950 National regatta in Knysna, he realised that she was no longer competitive so he designed and built "Seasprite".  A one-tenth wooden model from which measurements were taken and scaled up started the project. Hentie van Rooyen made his woodworking shed available and helped with the clinker construction. Local indigenous Keurwood was chosen and the ribs and stakes required steaming in a metal pipe. Hollow Spruce Spars completed the "state of the art" Goodricke. "Seasprite" went on to win the National Championship at Red House.
After the war building a "Goodricke" had become very expensive so the weight rule was adjusted to allow for lighter and cheaper construction. "Impudence" was built of Lap-strake Spruce, ribs of light Japanese Oak, fastenings were kept to a minimum and a lighter wooden centre board and rudder were used. She went on to win the Goodricke Trophy five times! FM Bongers in Cape Town designed and built the "Scratch" version using narrow strips of wood edge-nailed together. This design freedom led to intense rivalry between designers, builders and sailors like John Hunter, Frank Spears, with his sons Johnny and Hillary of Zeekoe Vlei and Halvar Mathiessen of Knysna, whose secret doings would filter through the forests, fostering curiosity if not awe!
In the mid-fifties the Spears built a Goodricke using the Cold-Moulded method of laminating three 2mm layers of veneer over a plug. The first layer would be at 90 degrees to the plug then the next one at 45 degrees and the last at 45 degrees to that. The deck was then covered in thin plywood. This method made a lighter and stiffer hull and in 1957 Hillary and Johnny sailing "Vivace" for the University of Cape Town Yacht Club, won the Goodricke Trophy.
With these design improvements "Sea Sprite" had lost her competitive edge so Halvar designed "Diana".  Again a scale model was used and from that a full sized mould was built. Three layers of moulded plywood were then stapled and glued over the mould. He later built "Anitra" in the same method, but added more rocker and softer bilges and she competed successfully against the boats being built by the Spears!
The Goodricke story does not end here, but moves on to the "Spearhead-Goodricke" and later to the "One-design" Spearhead.
Knysna is fortunate to have samples of all the types of Goodricke's which will be on display. Dudley Isaac refurbished "Tenacity" for the centenary opening cruise whist the others still need to be attended to.
The Goodricke Story put together by Dudley Isaac with information got from Colin Mathiesen and Terry Gillman.