The 'Athena'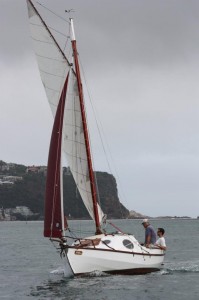 The Lucky Bean Boatyard pioneered wooden boat building in Knysna during the 1980's.  Owned and run by the very talented James Edwards, the yard designed and built a number of wooden yachts using West System Epoxy cold moulded laminates.  Some of the yachts built were the iconic H28 (Herresshoff) and another by noted American designer William Gardner.
The 'Athena', originally named 'Kaiki', was constructed by Lucky Bean  using mostly indigenous timber grown in the area – Thesens marine ply, pine, wild pear, stinkwood, ironwood and others, all sealed with epoxy.
The 'Athena' is 26ft in length, 7.6ft beam and draft 3ft, displacing 1.5 tons. She has a 10hp Yanmar inboard diesel engine.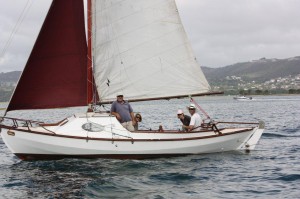 The present owner found the 'Athena'
on the Hartebeespoort Dam about 8 years ago. Having been moored in fresh water for some time, there was considerable rot damage which had to be repaired. After extensive repairs and modification Balau, Afromosia, Beech, Mahogany and Teak were also used.
The 'Athena's' designer, James Edwards, said that he drew inspiration for his design from Norwegian boats of a similar size ( eg. Folkboat).  After completion she was sailed in the Knysna Lagoon.  A later owner took her to Durban and finally to Hartebeespoort Dam.  She is now in pristine condition with a larger set of gaff sails – and sails very satisfactorily.  She is especially suited for singlehanded sailing and the rig is extremely easy to use.
She is back on the Knysna Lagoon, moored at Thesen Island, and hopefully will continue to give many years of good sailing.