'Al Malika' – The Sultan's Queen
It was once the luxurious gift from a British King to an exotic Sultanate off the east coast of Africa, an example of craftsmanship with a connection to a Scottish shipyard whose pedigree dates back nearly seven centuries.
Designed by Ewing McGruer Jnr, she was ordered by King George V for the ninth Sultan of
Zanzibar, Sayyid Sir Khalifa II bin Harub, who ruled what was then a British protectorate from 1911 to 1960.
Launched in mid-1933, before she was spirited away to her expectant first owner, Ewing Jnr was able to appreciate the marvel that he had created.  The day after her launch, Al Malika took three minutes off Six Metre Sonoma in a light breeze round the Gareloch 'wee course'.  She did that despite 80 sq ft less canvas.  Yachting World commented laconically.  "She gave a good account of herself."
Al Malika stretched to 32.4 ft overall, 21 ft length waterline and displaced 4 tons while drawing 5 ft of water and with a beam of 7.25 ft, and
400 sq ft of sail.  In common with the contemporary International Class yachts, she had a Bermudan rig and fixed backstay.  Never classed by Lloyd's, Al Malika's construction was reportedly to a standard exceeding their classifications.  Those familiar with McGruer can willingly believe it.  With teak planking over oak frames, her stem, keel, deadwoods, horn pieces and deck work were also teak, her deck yellow pine.
However, recent years have been less than kind to Al Malika, but she is now being lovingly restored as near to her former glory as yachtsman Dudley Isaac can get.
A keen sailor since he was nine, Dudley has lived in Knysna for the last 8 years.  He says he fell in love with the Al Malika when he first laid eyes on her 11 years ago.  "I had driven to the Vaal Dam to look for a keel for a Buccaneer.  I drove into the parking lot of the Vaal Cruising Association and there she was."   She was in a shocking state (as the picture shows), which included scorch marks on the foredeck from a wayward rocket from some fireworks night!
Sadly, in 1985, Al Malika had sunk in 35 ft of water.  The salvage records show that she was well and truly stuck in 10 ft of mud.  The salvage company used twenty one 44-gallon drums and took six days to clear the mud before finally being brought to the surface on 4 January 1986.
"They had been working on the cockpit drains and had forgotten to reconnect the pipes," Dudley Isaac says.  "Slowly the water seeped in, causing her to sink – an expensive mistake."
The owner at the time cleaned her up and put her back on the dam, where she stayed until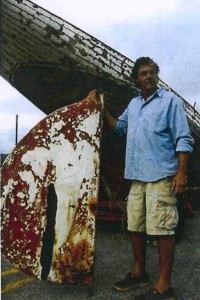 the early 1990's, and then was taken out for general maintenance.  Neil Down started work, but never finished it.
"When I first saw her, I arranged to go and meet Neil at his home with plans to buy her but he wasn't interested in selling.  I kept in contact and kept asking until one day he agreed.
"He knew I was passionate about the boat, but the one condition of sale was that I couldn't tell anyone how much I paid for it.  He may well have got higher offers, but I think it was important he knew it was going to a good home."  Dudley kept his word and refuses to reveal the price.  He bought Al Malika in July 2001.
Now, after nearly a decade's delay, Dudley has secured a corner in the workshop of
Custom Marine in Knysna and has already embarked on the restoration project.
"The main cost of a restoration is labour," he explains, "but because I plan to do most of the work, I can keep that to a minimum.  I have been in regular touch with McGruers in Scotland – a man called Fraser Noble, who has been very helpful, by sending out drawings and giving advice."
"I want to be as accurate to the original as possible," he says.  "The fact that she spent so long in fresh water up at the Vaal is a problem.  If she'd stayed in salt water perhaps she wouldn't have decayed so much.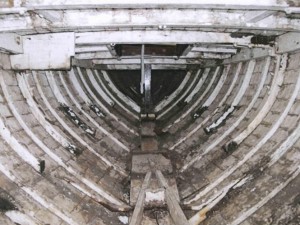 "It's exciting, but quite frightening.  After sailing the Classic Week in Antigua in 2008, I saw what could be done and to have Al Malika restored to what she used to be and that will be a tremendous achievement.
"Imagine taking her to all the classic regattas around the world!"
"There's something about classic wooden boats," he says "the lines, the design, the workmanship, wooden boats have soul, all those things modern boats just don't have.
"Yes, Al Malika might look old and in need of restoration, but you can see through that and imagine what she must have been like.  She's a beautiful boat."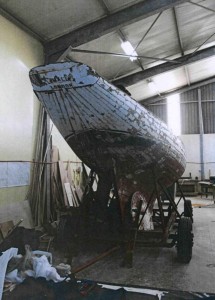 Dudley's intention is to return her to Ewing Jnr's Day Cruiser arrangement, so the coach roof and deck planks have been removed.  All the frames have been repaired or replaced
by steaming, bending and laminating or by scarfing in a new sawn piece.  The steel floors will be replaced.  Most of the teak planks are in good condition except where steel bolts have been added and the affected areas are being repaired.
Dudley has not yet decided whether to caulk or spline the seams between the planks but once the hull is complete work will start on the keel and then the deck will be re-planked in teak.
Significant waypoints in the restoration will be the construction of a new hollow mast and the decision on whether to fit a small engine.
Dudley has recently returned from the McGruer Regatta,  where he made the same journey that Al Malika made in 1933 – not by ship but back to the shores of the Gareloch to participate in the event to celebrate the legendary name of  McGruer.  Dudley returned to South Africa with a model of his queen built by Graham Johnston of Lochgoilhead  who sailed Al Malika in the 60's .
As well as a beautiful design, the Al Malika has a fascinating history.  Built of teak, this pretty Bermudan sloop displaces 4.6 tons.  She was launched on 13th October 1933, an event covered by Yachting World, which reported "she is undoubtedly a great credit to her builders and it is not unlikely that many further orders will be received as a result."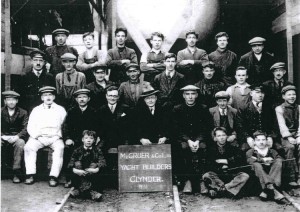 McGruers are synonymous with Scottish boatbuilding, despite ending production ten years ago. In the yard's heyday between 1920 and 1990, McGruers built some of the finest wooden craft ever to slip down Scottish ways.
Little is known about Al Malika's exploits under the Sultan of Zanzibar.  A Time magazine reporter who visited in May 1938 to write about a dispute over clove supplies wrote about 'the Sultan of Zanzibar, who likes nothing better than sailing his yacht in the Indian Ocean and going to London now and then.'  And records show that the hollow mast snapped in the40's and was replaced with a solid pole by the South African army in Dar es Salaam.
The Sultan kept her until 1958 and then sold her to a British sailor, Terry Griffiths, who was living in Tanganyika (now Tanzania) with his wife Jean.  Dudley has a copy of the cheque: 6517 shillings, paid to the Sultan on 17 November 1958 through the Standard Bank of South Africa.  However, Griffiths had to wait another four years before receiving a bill of sale, signed by one 'JC Alexander, Lt Col, Private Secretary to His Highness the Sultan.'
Griffith's father Harry was commodore of the Dar es Salaam Yacht Club when the Sultan's staff contacted him to say the boat was for sale.  Terry sailed to Zanzibar and bought her, sailing her back for restoration.
Guy Griffiths, Terry's son, recalls: "As soon as we were born we were out sailing in Al Malika – she was a wonderful boat.  My parents would bring a cot on board and later fill the cockpit with water to let my brother and me swim around at their feet as they sailed.  She was a beautiful, elegant boat and quite fast – she could reach seven or eight knots."
Terry Griffiths tragically died in a car crash in 1969, after which his wife sold the craft to another Briton, Dave Sutherland.  He was a former East African Airline pilot and flew Uganda's dictator Idi Amin on state visits.
He sailed Al Malika off East Africa, but she was damaged in 1973 during a trip from Mombasa, requiring an urgent call at the Tanzanian port of Mtwara – where ironically the Griffiths family had once lived.  The unplanned visit put him in jail for 24 hours for unauthorised entry.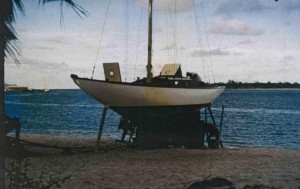 After his release, Sutherland sailed to Mozambique where Al Malika underwent temporary repairs before being shipped to Durban on a freighter and sold for R6 000.  She was bought by another pilot, ex-RAF, Neil Down, who was commodore of the East Rand Yacht Club.  He repaired the yacht and relaunched her on the Vaal Dam, where she sailed out of VCA . She was then transported to Dudley's small holding in Honeydew before being trucked down to Knysna.
To read further on the 'Al Malika', please click on the links below: 
The 'Al Malika'- adding to her history
Sources:    Yachting World, written by Ian Evans, July 2012
SA Sailing, November 2007
The Sultan's Queen, written by Gordon Drysdale