The Redwings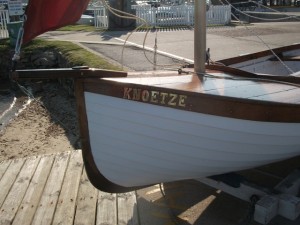 The 'Knoetze'
To encourage sailing and to make yachts more readily available to members, it was decided to build four 'Redwings', the design of which had evolved from the famous designer, the late Linton Stope.  These would be sold to members of the club.  They were built in the old wooden Scout Hall in Long Street previously the store of Fox, Dunn & Co., who had the contract in 1883 to supply yellowwood railway sleepers to the Government.
The building of the yachts was supervised by Cyril Noble (who had returned from Rhodesia) and they cost Pounds 29.5.8d to build, including sails and gear.  The building of the boats commenced in October 1936 and was completed by the end of December 1936 – a truly remarkable achievement.
The Redwings were launched by Mr C.W. Thesen, being the oldest foundation member of the Club, on 2 January 1937, on the old ramps at the Club.  Names were drawn for ownership.  Tom Willis, the Club Secretary for 38 years, received 'Red Jacket' with its red sails, later owned by Iain and Malcolm Fraser.  'Inyoni' went to J. Rex Meterlerkamp, 'Suzanne' went to Jock Roos-Bolton and 'Knoetze' went to H.S. Henderson, the latter still owned by the family.
The Redwing "Knoetze" belonging to Iain Henderson, was saved by John Holst who stored her in his factory to prevent further damage to the boat.  Unfortunately the spars, sails and rudder were lost during this time.  Iain asked Dudley Isaac to get her repaired and ready to sail at the Centenary opening cruise of the Knysna Yacht Club.
Dudley started by stripping down the layers of paint and varnish, and then repaired the broken ribs, planks and the centre board casing.  The Hull was then painted and the deck repaired.
The deck planking had to be refastened and caulked and then varnished. Patrick Wilson built new Spruce Spars and rudder, and a new set of red sails was made by North Sails.
"Knoetze" was launched and took part in the sail past of the Centenary opening cruise.
"It was really rewarding to take Ian sailing since the last time he sailed her was in 1943!"
To read further, please click on the links below –
Origins of the Redwing Dinghies
Excerpt from 'Fair Winds' by Mary Kuttel
From:  the Knysna Yacht Club Centenary Magazine.