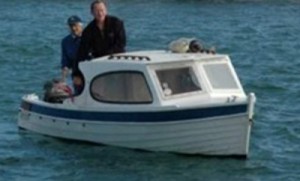 The Kipper
Please see the photo of Kipper taken during the 2009 Knysna Yacht Club opening cruise.  The person with me in Kipper is my mother, Lexie Elliott, 95 at the time, and now probably one of the oldest Knysna Yacht Club members.
Kipper's owner, Julie Gosling, has asked me to participate with her boat in the Wooden Boat Festival sail past on 29 September, which I'll be pleased to do.
A few details about Kipper:
Class type:  Cabin cruiser (restricted waters)
Year of manufacture:  1952
Builder:  Thesen's boatyard, Knysna
Length: 5,4m
Beam:  1,75m
Draught: 0,2m
Weight:  460kg
Build:  Clinker
Hull and deck material:  Wooden
Engine:  30hp Mariner outboard
Moored at:  Knysna Yacht Club jetty
Owner: Julie Gosling
Julie thinks that Kipper might have been one of the last wooden boats to have been built at Thesen's boatyard, but we cannot confirm this.   In any event, made in 1952, and still going strong 60 odd years later, is not too bad!
Tony Elliot