2012 Wooden Boat Show
October 29, 2012
The much anticipated Wooden Boat Show took place at the Knysna Yacht Club on Saturday and Sunday, September 29 and 30 as part of the 2012 Knysna Woodworkers Festival.  Please also view the video taken at the event.
Click on the above link to view the video taken by A&M Photography, Knysna.
There was some real history standing on the lawn.  Bernard Parkes' boat, the Goodricke Dinghy named Tenacity was on display.  In 1924 George Goodricke imported some 16 foot clinker built dinghies, which became known as the Goodricke Class.  He founded the Goodricke Trophy which became for dinghy sailing what the Lipton Club became for keelboat racing.
Another famous Knysnarian, Halvar Mathiesen, built the state of the art, Seasprite which proved to be the boat to beat.  After World War II, rules changed and Impudence was built of lapstrake spruce on ribs of light Japanese oak.  Fastenings were kept to a minimum and it sported lighter wooden centre-board and rudder.  It won the Goodricke Trophy five times for Knysna.
In the mid 1050's Frank Spears began to build dinghies of cold moulded plywood, and in
1957 Vivace won the Goodricke for the University of Cape Town Yacht Club.  These developed into the famous Spearhead class, one of which, owned by Dudley Isaacs, was on display and also raced about during the sail-past after lunch on Saturday.
Other famous wooden dinghies on show were the Redwing and the Knoetze class.  Two wooden boats which attracted much attention were 'double-enders' built by Chris Edwards at the Knysna Haiko boat works, of the Drascombe Peter design, based on Welsh fishing boats.  Spirit of Ireland owned by Alan McVitty, and Pipe Major Steve Collins' beautifully restored  With the Gael, made a popular pair, and the only boats of their design in South Africa.
Another boat which attracted much attention was a replica of a River Thames Steam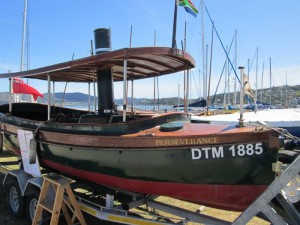 launch of the type popular in the early 1900's, complete with overall canopy and funnel.  Owned by Chris Nightingale and named Perseverance (it took 15 years to build!) her boiler is fuelled by paraffin laced with diesel, takes 20 minutes to build up steam, and her twin cylinder steam engine drives her at a maximum of 4 knots.  She can be seen from time to time on Island Lake or Swartvlei.
The sail-pass, scheduled for 14.30 was postponed until 15.45 to allow the wind to die down a little.  Owners of historic boats were reluctant to expose 80 year old sails to the brisk wind blowing at lunch time.  The historic Knoetze crewed by Alistair Fraser and Colin Mathieson was the first to sail past and salute Commodore Jim Parkes.  A number of the other boats, including the Drascombe Peters and Dudley Isaacs' Spearhead were also on the water for the salute.
On Sunday, September 30, the boats that were seaworthy took to the water again and sailed across to drop anchor at the beach at Featherbed.
Click here to read further on the Wooden Boats in Knysna
Quoted from Knysna-Plett Herald, 4 October 2012.  Written by Steve Eriksen