The 'Al Malika' – adding to her history
May 29, 2015
Many thanks to Anne Dornan for this interesting piece of personal history on the 'Al Malika' – the Sultan's Queen.
---
Dear Dudley,
I was pleased to see the article in the Sunday Times yesterday about Al Malika.
I am Dave Sutherland's daughter Anne Sutherland (now Dornan). I am really so glad that she is going to be restored and raced again. I have sailed in her and she was an amazing yacht – with half her hull out of the water she could punch above her weight. The very heavy lead keel would allow her to almost sit right over and skim the water. It was quite scary sometimes. I wonder what happened to all the old set squares and compasse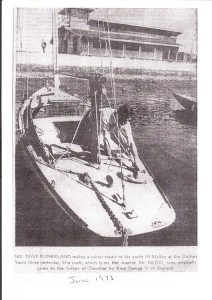 s and log books, I hope they survived.
What happened is this: My Dad bought it whilst he was a Captain flying for East African Airways. He was a sailor in the Australian Merchant Navy as a young man and loved sailing. He did fly for Idi Amin after he stopped flying with EAA around 1972 I think. He then brought the yacht to South Africa from Watamu where it was moored, and after being hit with a massive sea during the Monsoons he lost his rudder and was found on the point of death lost at sea. His radio and everything had been washed overboard. He had prepared to die – but was found and helped to Mozambique by a passing ship. He was then promptly imprisoned for some time – not sure how long and after that he managed to get it fixed and limped into the Durban Yacht Mole – he made the front page of the Mercury then – about 1972 – "Lone sailer enters Durban harbour" I think was the headline. It sat there for some time as he then gave it to my twin brothers David and Graham Sutherland. As they were school boys and unable to manage the costs of mooring and maintenance etc, a family friend called Neal Downs bought it. I believe he was the Captain of the yacht club on the Vaal. He died and then we lost touch. So now I realise it was at the bottom of the Lake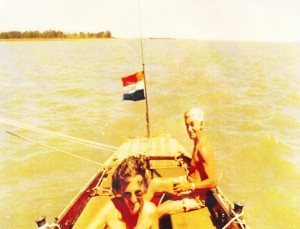 – I do remember someone telling me that – it could have been you. Nicola Colengelo in Dar es Salaam probably gave you my details. He saw that boat and its twin on arrival into Zanzibar and loved it very much – and so got to meet up with my Dad. I will scan and send you the only 2 pics I have of him. There were thousands taken of many weeks sailing off the East African coast, but these appear to have been lost in Devon – UK – as he got married again before being diagnosed with a brain tumour.
Well done, so much that is old is now on the junk heap – but yet so much that is old was so incredibly well made. I just wonder how the water logged timbers will fare, I think you will need special treatment for that. Once I was at Galilee in Israel and they had found a fisherman's boat that was carbon dated as 2000 years old so they had it in a special room with chemicals being forced into for a few years before it was allowed out into the air!
I hope this is something extra to add to your history!
Kind regards
Anne Dornan