Origins of the Redwing Dinghy
November 25, 2014
"Delighted to pick up your entry on the National Redwing Dinghy site.  I have known of the RCYC's Redwing from Mary Kuttel's entertaining history of the club from Fair Winds at the Cape for some time, but not that the design had been adopted in Knysna.  From a visit to the RCYC's archivist Robin Farlan it seemed that all their Redwings had disappeared save possibly one that may have been up at the battery.  I was overjoyed therefore to see that you have a later example still sailing.  I have scanned the relevant pages of Fair Winds (1954 and a bit rare) that refer to the SA boats conception and will attach them separately.
Regards, Mike.
Further …
Thank you to Mike Hick from the UK for his emails on the origins of the Redwing Dinghies.
"The National Redwing Dinghy Association has long debated the origins of the class (the
name, 14′ clinker built, iron plate and red sails) and it has long been my belief that it goes almost as far back as the conception of the Royal Cape Redwing.  My understanding is
that the great Uffa Fox (designer of the famous pre-war International Fourteen and the NRDA boat, being a beefed-up version of the latter), would have been working as an apprentice to Whites yard in the years immediately prior to the First War and may well have worked on the Linton Hope boats himself.  He went on of course, to work on the magnificent WW1 flying-boats developed by Linton Hope at what was to become Supermarines in conjunction with my grandmother's brother John Porte at RN Experimental Station, Felixstowe.  Many believe
that it was the application of Uffa's flying-boat planing-hull technical experience that led to the phenomenal success of his inter-war and later boats.  When Looe Sailing Club approached him in '38 to design a tough, fast 14′ dinghy, capable of coping with the rough and tumble of Cornish waters, he perhaps though an amalgam of his technical expertise and the tradition of the old Royal Cape concept might fit the bill, which indeed it did, as a dig into our burgeoning web entries demonstrates!
Herewith attached  pages 35, 36, and 37 of Fair Winds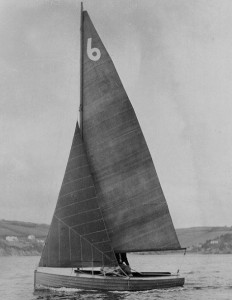 at the Cape.  I have left the pages in their entirety as they are a wonderful glimpse into a sailing age that will not be seen again.  The book itself is a fascinating account of early competitive sailing in the Cape and well worth finding.
Kind regards, Mike"
Read further – Pages 35, 36 and 37 of Fair Winds of the Cape, written by Mary Kuttel