Angry Elle …
June 22, 2015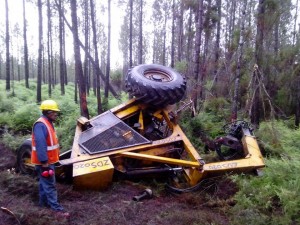 Knysna News- An elusive Knysna Forest elephant made his (or her) mark during the night of Wednesday, May 13 when the mighty beast overturned a heavy Bell logger in the Goudveld Forest plantation.
But such damage delights the Stander family business owners of ZD Stander en Seuns Vervoer en Ontginning (ZD Stander and Sons Transport and Clearance), who reported the incident on their Facebook page and added that it was "lekker" damage, since it reminded them that the elephant was still in the area.
According to the company's Facebook page, a day team noticed on that Wednesday morning that "a Knysna elephant known to the workers as Oupoot" had punctured the Bell logger's tyre. That evening they hid the logger among the trees to prevent further damage, but on their return the next morning they discovered that Oupoot had returned during the night and overturned the two-ton machine.
Photos of the elephant aftermath were quickly liked, shared and commented on. In response to several comments, some rather aggressive, that the elephant was sending a clear message that the Stander company should stop destroying the elephant's habitat, the page administrator quickly pointed out that the incident occurred in a pine plantation, not the indigenous forest.
The post made it clear that since the elephant occurs in the natural Knysna Forest, encounters in pine plantations are very rare. "The indigenous forests are very strictly managed by SANParks and no clearance activity will be tolerated there."
In Facebook comments the Stander family emphasised that they grew up in the forest and had a soft spot for the "Precious" Knysna elephant and that its presence is a joyful one, despite the damage sometimes caused. The company's clearance teams encounter the elephant's doings quite often and there has been damage in Gouna, Buffelsnek, Goudveld and the Farleigh areas. "Shows you that the old bigfoot is certainly not alone."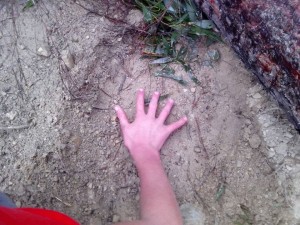 On May 17, ZD Stander en Seuns wrote that they were quite surprised by the response to the photos, which by then had been viewed 51 000 times already.
In an interview with Media24 reporter Jackie Kruger, a company director Etienne Stander said that the elephant had also overturned the same Bell logger three weeks prior to the latest tussle with the machine.
Stander told Kruger that while the logger, which loads logs onto trucks, was not badly damaged, it was quite a battle to get it upright again.
Stander said that he saw the elephant once quite some time ago when it came out of the forest.
Click here to read further on the Knysna Elephants
Courtesy:  Knysna Plett Herald
Photographs:  Etienne Stander