FROM THE BLOG
News relating to Knysna woodworkers, the Knysna forests, elephants and wooden boats.
Archive for July 2012.
---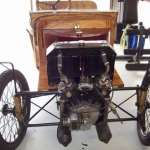 July 9, 2012
I was given the wonderful opportunity of rebuilding the body of a 1923 Morgan de Luxe three wheeler motor car. This was a daunting task as none of these vehicles were built the same. I had to work off the original blue prints and an existing body that was in itself a rebuild in plywood.
{ click here to read more... }
---